Warmer weather is right around the corner and we have been busy here at SHYC planning and testing our new Spring / Summer menu for 2019 (it's a tough job but somebody's got to do it!). This season's menu incorporates all those delicious and light spring and summer seasonal vegetables. These cater fantastically to vegetarians and vegans but also as a beautiful mix to meat and seafood dishes.
We're also all about customising the menus to suit your needs. Our spring/summer 2019 menus make it easier to select the style you want, plus we now have new grazing stations that include seafood ice bars and desserts that can add the desired touch to your event.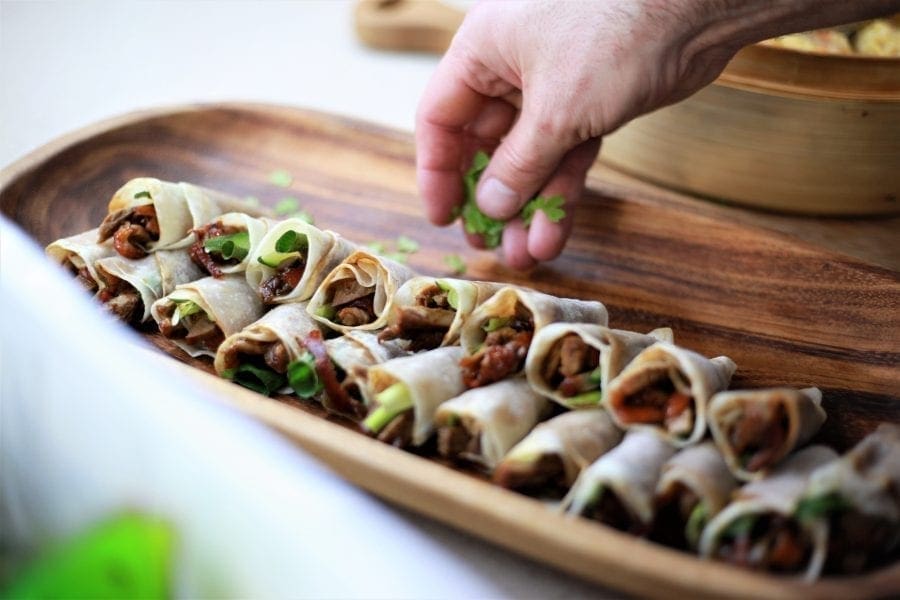 Expanded range of canapes
There's even more to choose from our ever popular Gold, Platinum and Substantial canape menus that let you customise your menus to your exact requirements. Spring provides an abundance of beautifully fresh produce you'll see in dishes such as Seared salmon and quinoa poke bowl, purple cabbage, and pickled ginger; 63-degree beef tenderloin, pepper caramel, chilli salt and crisp shallots; and Yellowtail kingfish ceviche and torched ruby grapefruit. And for dessert, what says Spring more than a Milk chocolate and salted caramel tartlet topped with crystallised edible flowers!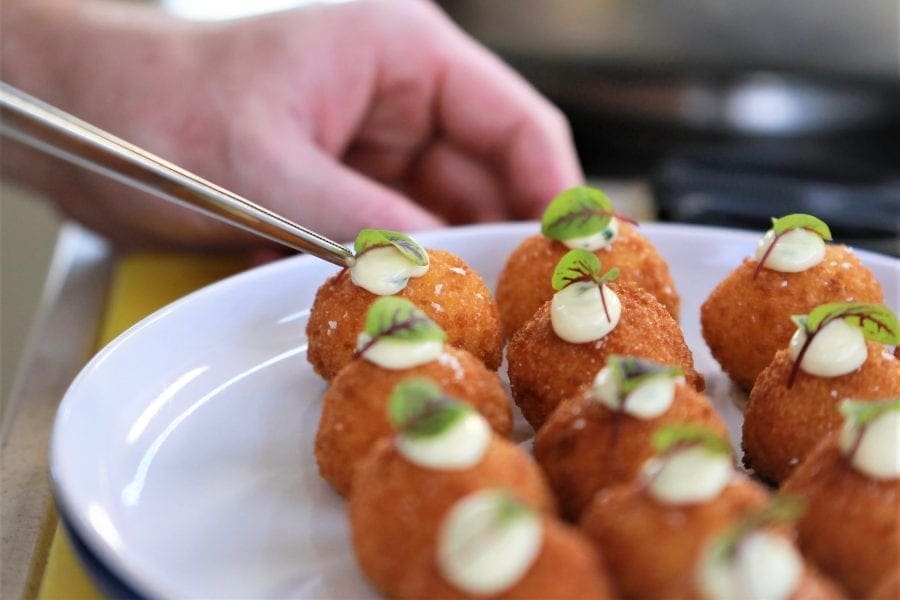 Chef's choice set canape menus
With over 40 incredible canapes to choose from, it can be hard to narrow it down to just a few. So we've done the hard work for you, using our extensive knowledge of event catering to design four canape packages. Each package includes more substantial items, options that will cater for food requests including gluten free and vegetarian, and substitute items so that you can tailor these menus to make them your own.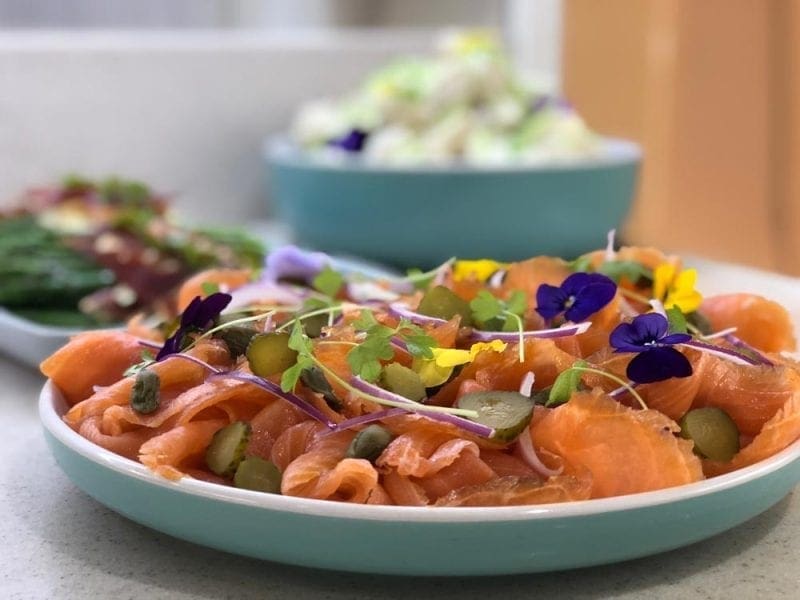 Design your own buffet menu
We offer a range of Gold, Platinum and Diamond dishes that can be combined to create the buffet of your dreams, with a wide selection of seafood, gluten-free, vegetarian and vegan dishes. Again we've introduced the freshness of spring produce in dishes such as Charred asparagus, parmesan, crispy prosciutto and sweet balsamic; Lentil, beetroot and goats cheese salad with balsamic vinaigrette; Toasted cauliflower, rocket, turmeric, pickled onions and sunflower seeds; and Riverina lamb back-strap with fresh gremolata and macadamia crumb.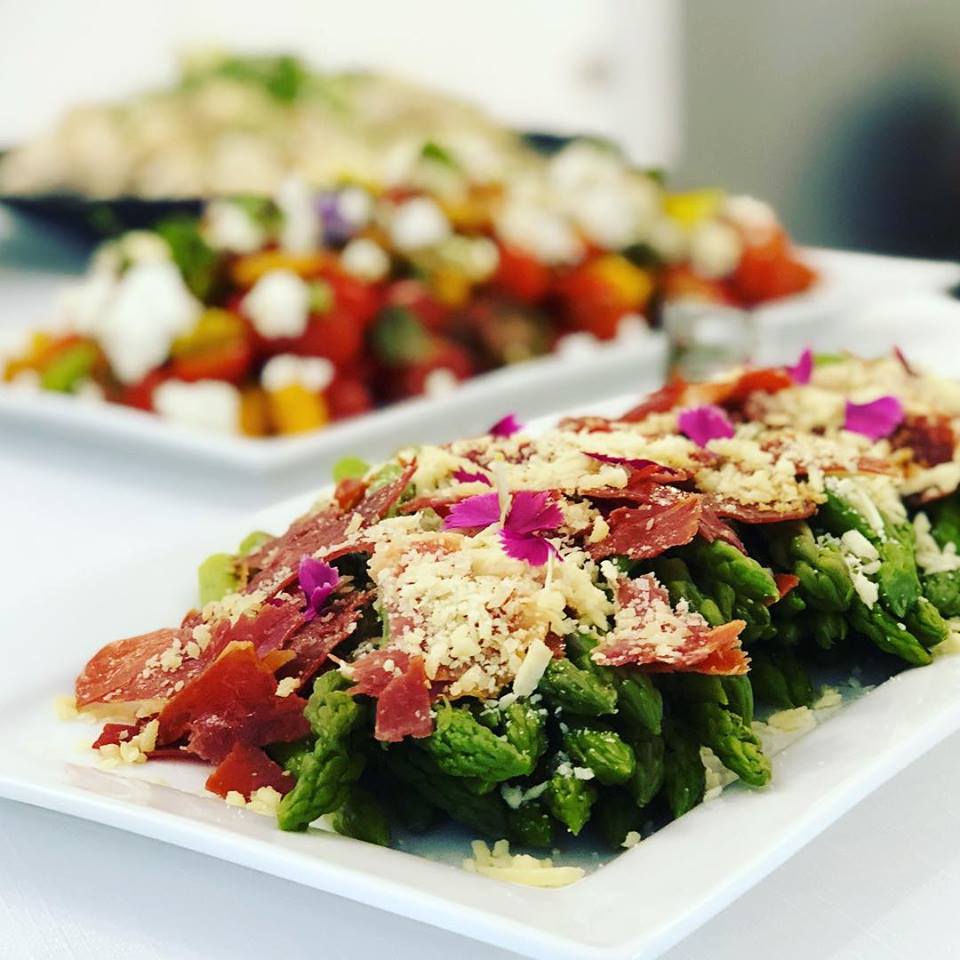 Set buffet menu
For those who want all the decision-making done for them, this Spring and Summer there are three varieties of set buffet menus, starting at just $76 per person for five delicious options, or up to $120 per person for nine options. Options include Market best prawns with Boardwalk's signature cocktail sauce; Twice-cooked pork belly, spiced apple chutney and crackling: Roasted duck fat, chat potatoes, rosemary and garlic; and two desserts.
Formal dining
Did you know that A.Q.A. has the capacity to seat up to 40 people for formal dining? Why not take advantage of our professional on-board chef and create an event to truly remember with two or three-course dining menus. The menu reads like a high-end restaurant with delights including entrees of Poached Moreton baby bug, shaved fennel, snow pea tendrils, and blackened citrus; and Steamed, wild blue eye tee all a, chervil oil, grape & pine nut salsa. For mains, try a Roasted duck breast, potato fondant, beetroot puree, asparagus and hazelnut jus; and Berkshire pork cutlet, polenta, mushroom ragout and sweet potato crisps. Four dessert choices are available including Torched lemon meringue tartlet, shortbread crumble and vanilla ice-cream; and up to five side dishes can be added to any menu.
Add a food station
Want to ensure your guests are well fed but you're not having a sit-down meal? Our new food stations are the perfect addition to increase the quantity of food as well as introduce greater variety to the menu. We are now offering a variety of food stations that make the ideal add-on to a canape menu and they also look amazing for added visual interest to your event. You can choose from one or more of the following food stations:
Seafood ice bar – The perfect spread of Harbour delights. Delicious market best local and regional seafood including Sydney Rock and Pacific Oysters, prawns and sushi along with various dipping sauces served on ice. This can be customised even further to include lobsters, Morton bay bugs or even pickled baby octopus.
Whole baked honey leg ham – with mustards, relishes and soft bread rolls.
Cheese and antipasto grazing station – Something for everyone with cheese, marinated vegetables, cured meats, and breads all served on quality wooden boards and platters.
Dessert station – One of our most popular ways to add sweet treats to an event. Includes our very own Boardwalk chocolate brownies, macarons, tarts and lollies.
Sydney Harbour is a world-renowned destination, known for its stunning natural beauty and iconic landmarks. Whether you're a local or a tourist, experiencing the harbor on a luxury overnight superyacht hire is a unique and exclusive way to take in the sights and sounds of this magnificent location.

When it comes to the menu selection on our Sydney Harbour Yacht Charter boats, we pride ourselves [...]