Do you have a special celebration or event coming up or perhaps a birthday, wedding or engagement party? One of the most important aspects of any function is delicious food, and selecting the right menu and beverages for your birthday or wedding is essential.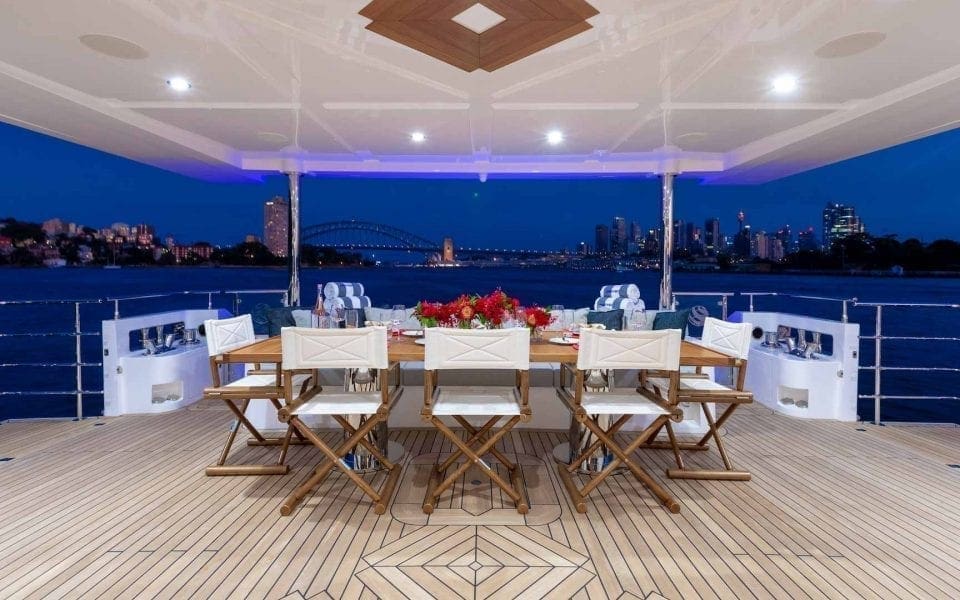 Wedding & Birthday Catering Sydney
Making sure you pick the right catering service is important, you want to ensure that your friends and family have the best time at your occasion.
Alternatively, you may wish to do your own catering however this takes a great deal of time and effort.
Catering by a professional can help alleviate the pressure of your birthday or wedding so you can concentrate on other aspects of your occasion.
Catering For Special Occasions
Catering depends on the number of guests who are invited to any special occasion and depending on the size of your group will help you decide which size vessel will best suit your preference.
You may have a small group of 35 guests which would fit perfectly on our luxury boat or perhaps you are after a large Superyacht, our Corroboree will accommodate 110 guests.
Whichever size group, we will have the perfect vessel for you and with outstanding catering and a superb fresh menu to suit any requests.
Sydney Harbour Yacht Charter are the perfect selection to impress your guests and promise a beautiful experience either during the day or night.
The top catering ideas:
The top catering ideas we know will make your wedding or birthday memorable…
Share food board platters
Share food boards are a fun way to bring your guest together and socialize. Your guests can help themselves while sitting back and relaxing.
Cuisine themed
Cuisine themed catering gets everyone in a themed mood! Why not take it a step further and have your special occasion follow suit with a theme.
Mini cocktails and sliders
The most popular catering foods for catering are sliders and mini food! So add mini cocktails to the list and your guests will love the option to indulge in nibbles throughout the day or night.
Sweet & salty snack bar
What a great way to display sweets and salty snacks than in a snack bar! This allows your guests to select their own food and eat when they please.
Indulging Fruit platters
Fruit platters can be as creative as you like, with unique fruits and creative shapes. Fruit is a healthy selection for your occasion.
Venues For Special Occasions
At the top of the list with the right catering is also the right venue.
These two options will guarantee you have a wonderful time with family and friends.
One of the most sought after venues for weddings and birthdays in Sydney in hiring a superyacht.
Sydney Harbour Yacht Charter is the ideal luxury experience for your birthday or wedding.
While celebrating your special occasion, enjoy being served a drink while cruising past the Sydney Opera House or perhaps being served canapes or sitting down to a four-course dinner while cruising around the Harbour with a sunset backdrop.
Plan Your Special Occasion Today!
The professional team at Sydney Harbour Yacht Charter are confident and passionate and their priority is ensuring our clients have a fantastic experience.
The team will provide advice which will guarantee the best menu selection and provide a menu to impress your guests, ensuring the food will also be a highlight along with a beautiful venue and setting.
Cruising along the water on a luxury boat or superyacht is one of life's great experiences, relaxing and spending time with family, friends or work colleagues whether a small or large function Sydney Harbour Yacht Charter will have the right size vessel for you.
With the catering and a wonderful crew to take care of all your stresses, you are able to enjoy your time onboard.
Sydney Harbour is a world-renowned destination, known for its stunning natural beauty and iconic landmarks. Whether you're a local or a tourist, experiencing the harbor on a luxury overnight superyacht hire is a unique and exclusive way to take in the sights and sounds of this magnificent location.

When it comes to the menu selection on our Sydney Harbour Yacht Charter boats, we pride ourselves [...]